Roll over image to zoom in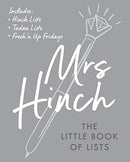 Welcome to your Little Book of Lists!
A whole book filled with just lists! Notebook goals!
My idea of absolute heaven!
As you all know, nothing helps me feel more organised than putting pen to paper and getting everything that's buzzing around my head down on to the page.
Inside you'll find loads of Hinch Lists and Fresh'n Up Fridays to help you plan your hinching, as well as Tadaa Lists which I love to look back on and feel proud of.
Nothing feels better than ticking off those boxes and putting down my crystal pen at the end of a productive day.
I really hope you'll find this Little Book of Lists, all together in one place, helpful!
Happy hinching, Hinchers!
Love, Mrs Hinch xx
Payment & Security
Payment methods
Your payment information is processed securely. We do not store credit card details nor have access to your credit card information.
---
Security