Roll over image to zoom in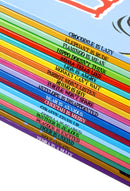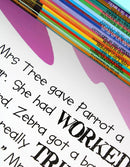 Behaviour Counts 20 Books Box Set (Kids Behaviour & Emotion) is fun and engaging series has been designed to help young children understand and manage their emotions whilst also learning to read. Each book has carefully explained notes to parents and teachers to help them discuss the stories and further explore the text.
Titles In this Set:
Lion is Angry But Learns To Manage His Temper

Monkey Can't Wait But Learns To Be More Patient

Rhino Is Shy But Learns To Be More Confident

Hippo Doesn't Think But Learns To Make Good Choices

Crocodile Is Lazy But Learns How To Be Active

Flamingo Is Mean But Learns To Be Kind

Elephant Is Rude But Learns To Be Polite

Turtle Won't Share But Learns Not to be Selfish

Parrot Won't Listen But Learns To Pay Attention

Koala Tells Lies But Learns To Tell The Truth

Antelope Is Disappointed But Learns To Carry On

Bear Is Anxious But Learns Not To Worry

Cheetah Is Messy But Learns To Tidy Up

Giraffe Gives Up But Learns How To Try

Gorilla Is Scared But Learns To Be Brave

Panther Is Jealous But Learns To Manage His Envy

Peacock Is Excited But Learns To Calm Down

Tiger Is Unkind But Learns To Care

Wolf Cheats But Learns To Play Fair

Zebra Is A Bully But Learns To Be Nice
Behaviour Matters by Sue Graves
Payment & Security
Payment methods
Your payment information is processed securely. We do not store credit card details nor have access to your credit card information.
---
Security