Roll over image to zoom in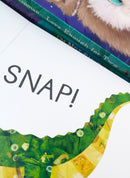 I Love You More and More:
I Love You More and More is a touching celebration of the endless love and the very special relationship between a parent and child. With a lyrical, rhyming text, stunning illustrations by Jonny Lambert and a beautiful shiny silver title and trees on the cover, this sumptuous tall-format picture book would make the perfect gift for any child or new parent.
I'm Not Sleepy:
It's bedtime, and Mo isn't sleepy. Not one tiny bit. "I don't want to go to bed!" he giggles. "I want to play!" "But someone has got to go to bed," says Grandma. "Maybe I should go up to bed and you can stay up." "Yes! Yes! Yes!" laughs Mo, but putting Grandma to bed is harder than he thought...
Special You:
Little Why the elephant just wants to be special. If only he had spiny-spiky horns like Wildebeest...or long-lofty leggy legs like Giraffe! Join Little Why on a beautiful journey of discovery and love.
Love Enough for Two:
 .
Little owl Mo is in for a surprise when his baby cousin Bibi comes to stay. She seems cute enough. But will there be enough of Grandma's love to go around? Written and illustrated by the award-winning Jane Chapman (Squish Squash Squeeze!, No More Cuddles), Love Enough for Two is a fantastic sequel to the bedtime favourite.
Payment & Security
Payment methods
Your payment information is processed securely. We do not store credit card details nor have access to your credit card information.
---
Security