Roll over image to zoom in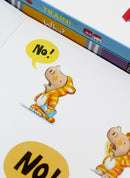 Titles in this Set:
Why?
Train!
Mighty Mo
No 
Why?
Archie is a rhino with a LOT of questions. He wants to know everything: "Why glue is so sticky? Why do dropped things go SMASH?" If only finding out was a little less messy…Everybody's favourite rhino returns in this brand-new sequel to No! from the wonderful Tracey Corderoy.
Train!
Little Elephant LOVES trains! But Cat wants to play with his plane. Penguin wants to play with his car. And Rabbit would rather play with his digger. How will they learn to play together Train! Is the perfect book for any child obsessed with things that go, and it helps little ones learn about playing together and sharing too.
Mighty Mo
At the Golden Dodo Zoo, Mo the raccoon is bored, bored, bored. There must be something amazing he can do! It certainly isn't making ice-creams or blowing up balloons… But when Big Ron the robber starts causing trouble, it's up to mighty Mo to save the day!
No!
Archie says "No!" at mealtimes, bath times, and every single bedtime... A hilarious tale that's perfect for parents who are finding themselves suddenly tackling tantrums. The cheeky, charming Archie will win the hearts of children and parents.
Payment & Security
Payment methods
Your payment information is processed securely. We do not store credit card details nor have access to your credit card information.
---
Security