Roll over image to zoom in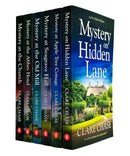 Introduction 
The "Mystery Collection Series 6 Book Set" by Clare Chase is a captivating series of mystery novels that delve into the enigmatic and suspenseful world of a quaint English village. In this collection, readers are introduced to six distinct and intriguing mysteries, each set in a different location within the village.
Titles in this Set:
Apple Tree Cottage,
Old Mill,
Abbey Hotel,
Hidden Lane
Church
Seagrave Hall
Description 
"Apple Tree Cottage" kicks off the series with a puzzling tale centered around the eponymous cottage, unraveling secrets hidden within its walls.

"Old Mill" transports readers to an atmospheric old mill, where secrets from the past come back to haunt the present.

"Abbey Hotel" delves into the mysterious occurrences at a historic hotel, where guests and staff find themselves entangled in a web of intrigue.

"Hidden Lane" leads readers down a secretive pathway, uncovering the dark mysteries concealed within the village's hidden corners.

"Church" takes the mystery to the heart of the village, where secrets lie beneath the sacred walls of the local church.

"Seagrave Hall" concludes the collection with a gripping narrative set in the grandeur of Seagrave Hall, where the secrets of the elite are unveiled.

As each novel unfolds, readers are drawn into a world of complex characters, hidden motives, and suspenseful plots. Clare Chase's storytelling weaves together these six distinct settings and mysteries, creating an immersive and engrossing series that will keep readers on the edge of their seats as they uncover the truth behind each enigma. Whether you're a fan of cozy mysteries or thrilling suspense, this book set offers a delightful and engaging reading experience.


Payment & Security
Payment methods
Your payment information is processed securely. We do not store credit card details nor have access to your credit card information.
---
Security