Roll over image to zoom in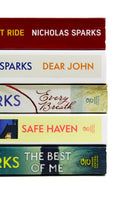 Titles In This Set:

The Longest Ride
Every Breath
Safe Haven
The Best of me
Dear John

The Longest Ride: 
Ira Levinson is in trouble. Ninety-one years old and stranded and injured after a car crash, he struggles to retain consciousness until a blurry image materializes beside him: his beloved wife Ruth, who passed away nine years ago. Urging him to hang on, she forces him to remain alert by recounting the stories of their lifetime together.


Every Breath:
Hope Anderson has some important choices to make. At thirty-six, she's been dating her boyfriend, an orthopaedic surgeon, for six years. With no wedding plans in sight, and her father recently diagnosed with ALS, she decides to use a week at her family's cottage in Sunset Beach, North Carolina, to ready the house for sale and mull over some difficult decisions about her future.
Safe Haven:
Love hurts. There is nothing as painful as heartbreak. But in order to learn to love again you must learn to trust again.
When a mysterious young woman named Katie appears in the small town of Southport, her sudden arrival raises questions about her past. Beautiful yet unassuming, Katie is determined to avoid forming personal ties until a series of events draws her into two reluctant relationships.
Despite her reservations, Katie slowly begins to let down her guard, putting down roots in the close-knit community. But even as Katie starts to fall in love, she struggles with the dark secret that still haunts her . . .



The Best Of Me


In the spring of 1984, high school students Amanda Collier and Dawson Cole fell deeply in love. Though they were from opposite sides of the tracks, their love for each other seemed to defy the realities of life in the small town of Oriental, North Carolina. But as the summer of their senior year came to a close, unforeseen events would tear the young couple apart, setting them on radically divergent paths. 

Dear John:

When John meets Savannah, he realises he is ready to make some changes. Always the angry rebel at school, he has enlisted in the Army, not knowing what else to do with his life. Now he's ready to turn over a new leaf for the woman who has captured his heart.
What neither realises is that the events of 9/11 will change everything. John is prompted to re-enlist and fulfil what he feels is his duty to his country. But the lovers are young and their separation is long. Can they survive the distance?
Payment & Security
Payment methods
Your payment information is processed securely. We do not store credit card details nor have access to your credit card information.
---
Security