Roll over image to zoom in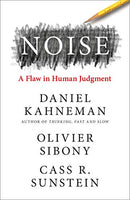 The Sunday Times bestseller
'A monumental, gripping book … Outstanding' Sunday Times
Wherever there is human judgement, there is noise.
'Noise may be the most important book I've read in more than a decade. A genuinely new idea so exceedingly important you will immediately put it into practice. A masterpiece'
Angela Duckworth, author of Grit
'An absolutely brilliant investigation of a massive societal problem that has been hiding in plain sight'
Steven Levitt, co-author of Freakonomics
From the world-leaders in strategic thinking and the multi-million copy bestselling authors of Thinking Fast and Slow and Nudge, the next big book to change the way you think.
Imagine that two doctors in the same city give different diagnoses to identical patients – or that two judges in the same court give different sentences to people who have committed matching crimes. Now imagine that the same doctor and the same judge make different decisions depending on whether it is morning or afternoon, or Monday rather than Wednesday, or they haven't yet had lunch. These are examples of noise: variability in judgements that should be identical.
Payment & Security
Payment methods
Your payment information is processed securely. We do not store credit card details nor have access to your credit card information.
---
Security