Roll over image to zoom in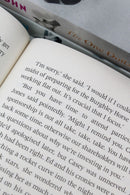 Title:
The One Dollar Horse
The One Dollar Horse: Race the Wind
The One Dollar Horse: Fire Storm
The One Dollar Horse:
Fifteen year old Casey Blue lives in East London's grimmest tower block and volunteers at a local riding school, but her dream is to win the world's greatest Three Day Event: the Badminton Horse Trials.When she rescues a starving, half-wild horse, she's convinced that the impossible can be made possible. But she has reckoned without the consequences of her father's criminal record, or the distraction of a boy with melty, dark eyes, with whom she refuses to fall in love.
The One Dollar Horse: Race the Wind:
When Casey Blue's victory at the Badminton Horse Trials earns her and Storm an invitation to the prestigious Kentucky Three Day Event, it is a dream come true. But that dream is about to turn into a nightmare.After her father is arrested for a crime Casey is convinced he didn't commit, she finds herself the victim of a vicious blackmailer. To make matters worse, Storm is behaving like the wild horse he once was.
The One Dollar Horse: Fire Storm:
Teenage eventing star Casey Blue has it all - fame, her champion horse Storm and a boyfriend who loves her.Then Kyle West walks into her life. The country's hottest equestrian coach is also drop dead gorgeous and Casey knows right away that she's in trouble. But who is Kyle and why are there so many unanswered questions about his past? And what is his connection to Anna Sparks, Casey's old rival?
Payment & Security
Payment methods
Your payment information is processed securely. We do not store credit card details nor have access to your credit card information.
---
Security