Roll over image to zoom in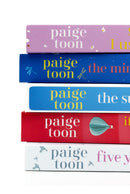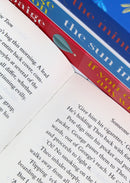 Titles In this Set:
Someone I Used to Know:
The Minute I Saw You:
The Sun in Her Eyes:
If You Could Go Anywhere:
Five Years From Now:
Someone I Used to Know:
At fifteen, George is the foster brother Leah never asked for. As the angry, troubled boy struggles to come to terms with his circumstances, Leah finds herself getting drawn closer to him. Theo's wealthy family have mysteriously pulled him out of boarding school and he's now enrolled at the local state school with Leah and George.

The Minute I Saw You:
When Hannah meets Sonny, she's irresistibly drawn to him: he's sexy and confident, but only in town on holiday. That's fine with Hannah - she doesn't do long-term relationships. And luckily for her, neither does Sonny.

The Sun in Her Eyes:
Amber was three when a car crash stole her mother's life. She doesn't remember the accident, but a stranger at the scene has been unable to forget. Now, almost thirty years later, they're trying to track Amber down.

If You Could Go Anywhere:
Angie has always wanted to travel. But at twenty-seven, she has barely stepped outside the small mining town where she was born. Instead, she discovers the world through stories told to her by passing travellers, dreaming that one day she'll see it all for herself.

Five Years From Now:
Nell and Van meet as children when their parents fall in love, but soon they are forced worlds apart.Five years later, they find each other. Their bond is rekindled and new feelings take hold, but once again they must separate.
Read less
Payment & Security
Payment methods
Your payment information is processed securely. We do not store credit card details nor have access to your credit card information.
---
Security