Roll over image to zoom in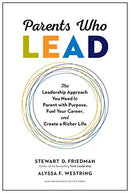 Parents in today's fast-paced, disorienting world can easily lose track of who they are and what really matters most. But it doesn't have to be this way. As a parent, you can harness the powerful science of leadership in order to thrive in all aspects of your life.
Drawing on the principles of his book Total Leadership--a bestseller and popular leadership development program used in organizations worldwide--and on their experience as researchers, educators, consultants, coaches, and parents, Stew Friedman and coauthor Alyssa Westring offer a robust, proven method that will help you gain a greater sense of purpose and control. It includes tools illustrated with compelling examples from the lives of real working parents that show you how to:
Design a future based on your core values
Engage with your children in fresh, meaningful ways
Cultivate a community of caregiving and support, in all parts of your life
Experiment to discover better ways to live and work
Powerful, practical, and indispensable, Parents Who Lead is the guide you need to forge a better future, foster meaningful and mutually rewarding relationships, and design sustainable solutions for creating a richer life for yourself, your children, and your world.
Payment & Security
Payment methods
Your payment information is processed securely. We do not store credit card details nor have access to your credit card information.
---
Security