Roll over image to zoom in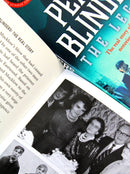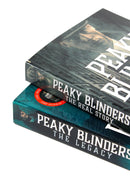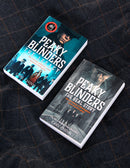 Peaky Blinders:
In the backstreets of Birmingham after the First World War, Billy Kimber was a feared fighter with an astute mind and magnetic personality. These attributes earned him the leadership of the Birmingham Gang that dominated the highly profitable protection rackets of the racecourses of England. The members of this gang had once been "sloggers" or "peaky blinders", and their rise to supremacy was attributable to their viciousness and to Kimber's shrewd alliances with other mobs. But they soon incurred the envy of the Sabini Gang of London, who fought violently to oust Kimber and his men and take over their rackets. The Birmingham Gang battled back fiercely in the infamous and bloodstained racecourse wars of the 1920s. These were the real Peaky Blinders, and this is their story.
The Legacy:
The Peaky Blinders as we know them, thanks to the hit TV series, are infused with drama and dread. Fashionably dressed, the charismatic but deeply flawed Shelby family have become cult anti-heroes.

Well-known social historian, broadcaster and author, Carl Chinn, revealed the true story of the notorious gang in his bestselling Peaky Blinders: The Real Story and now in this follow-up book, he explores the legacy they created in Birmingham and beyond. What happened to them and their gangland rivals?

In Peaky Blinders: The Legacy we revisit the world of Billy Kimber's Peaky Blinders, exploring their legacy throughout the 1920s and 30s, and how their burgeoning empires spread across the UK. Delve into the street wars across the country, the impact of the declaration of War on Gangs by the Home Secretary after The Racecourse War in 1921, and how the blackmailing of bookmakers gave way to new and daring opportunities for the likes of Sabini, Alfie Solomon and some new faces in the murky gangland underworld.
Payment & Security
Payment methods
Your payment information is processed securely. We do not store credit card details nor have access to your credit card information.
---
Security