Roll over image to zoom in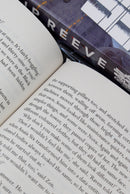 Titles in This Set
Railhead
Station Zero
Black light express
Railhead
The Great Network is a place of drones and androids, Hive Monks and Station Angels. The place of the thousand gates, where sentient trains criss-cross the galaxy in a heartbeat.
It is also a place of great dangers - especially for someone who rides the rails and rides his luck the way Zen Starling does.
Once Zen was just a petty thief, stealing to support his family and living by his wits. Now everything has changed. Zen is still a thief - but it could be that the key to the whole universe rests on finding out what else he is . . .
Station Zero
The Great Network is changing. New worlds, new alliances, new enmities. For Threnody the changes have brought great power. For Zen and Nova they have brought separation. For the trains that run from world to world, they have brought questions. Now all of them must find out what really matters to them and who they really are . . .
Black light express
There was nothing, and then there was a train. A train with two passengers: a petty thief from a dead-end town, and an android girl who could be more human than the rest of us. Join Zen and Nova as they find out what really lies beyond the end of the universe . . .
Payment & Security
Payment methods
Your payment information is processed securely. We do not store credit card details nor have access to your credit card information.
---
Security