Roll over image to zoom in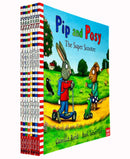 Introduction 
The "Pip and Posy Collection 8 Books Set" by Axel Scheffler is a delightful compilation of heartwarming stories that follow the endearing friendship between Pip the rabbit and Posy the mouse. Illustrated by the renowned Axel Scheffler, these charming tales are perfect for young readers and parents alike, offering valuable life lessons while enchanting readers with their relatable characters and engaging adventures.
Titles in this Set:
The Super Scooter,
The Little Puddle,
The Scary Monster,
The Big Balloon,
The Snowy Day,
The Bedtime Frog,
The New Friend,
The Christmas Tree
Description 
In "The Super Scooter," Pip and Posy learn the importance of sharing and cooperation as they embark on an exciting scooter adventure. "The Little Puddle" teaches children about the joy of splashing in puddles and the comfort of friendship during accidents. "The Scary Monster" explores how the support of a friend can conquer even the most frightening situations.
"The Big Balloon" takes readers on a thrilling journey into the sky, celebrating the wonder of adventure and exploration. "The Snowy Day" captures the magic of winter, offering a heartwarming look at the joys of playing in the snow. "The Bedtime Frog" provides a soothing bedtime story that helps little ones wind down after a busy day.
"The New Friend" delves into the excitement and occasional challenges of making new friends, emphasizing the value of kindness and understanding. Finally, "The Christmas Tree" brings the festive spirit to life through Pip and Posy's holiday adventures, spreading joy and warmth.
Throughout these beautifully illustrated stories, young readers are introduced to relatable themes of friendship, sharing, empathy, and the simple pleasures of childhood. The "Pip and Posy Collection 8 Books Set" is a treasure trove of timeless tales that captivate young imaginations, making them ideal for bedtime reading and bonding moments between parents and children. Axel Scheffler's enchanting illustrations and Axel Scheffler's storytelling make this collection a beloved addition to any child's bookshelf, where the adventures of Pip and Posy will continue to be cherished for years to come.
Payment & Security
Payment methods
Your payment information is processed securely. We do not store credit card details nor have access to your credit card information.
---
Security