Roll over image to zoom in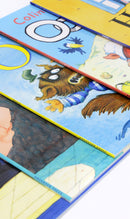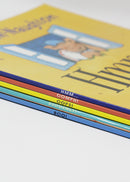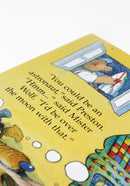 Titles In This Set:
Boo!
Oops!
Oomph!
Suddenly
Hmm…
Boo!:
Preston is slinking through the shadows yelling, 'Boo!' at his unsuspecting victims. There are complaints from all over town. When the greatest villain in the universe – his dad – catches him, Preston is in big trouble!

Oops!:
Preston sets off to take a basket of food to his granny's, wearing a red coat and hood, and looking very much like Little Red Riding Hood. As ever, Mister Wolf is in hot pursuit, but he can't think which story Preston's red coat and hood reminds him of, and consequently can't remember what he is supposed to do...

Oomph!:
Preston Pig is off to the seaside on holiday when he bumps into Maxine - Oomph! - and falls in love! Mister Wolf is on holiday too, in search of sunshine, sea, sand...and sausages!

Suddenly:
When Preston Pig walked home from school on day suddenly…something nearly happened to him. It gave him the strangest feeling that he was being followed…and he was right! Follow Preston Pig on his way home in this hilarious book.

Hmm…:
Mister Wolf is considering getting a job so he can buy his dinner instead of having to go out and catch it! But what could he be… a footballer, a teacher, an astronaut? It's a difficult decision when all he's good at is eating pigs!
Payment & Security
Payment methods
Your payment information is processed securely. We do not store credit card details nor have access to your credit card information.
---
Security