Roll over image to zoom in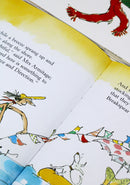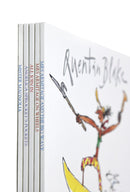 Titles In this Set
Quentin Blake Mister Magnolia
Quentin Blake Mrs Armitage On Wheels
Quentin Blake Angelica Sprocket's Pockets
Quentin Blake Mrs Armitage & The Big Wave
Quentin Blake All Join In
Quentin Blake Mister Magnolia
Mr Magnolia has only one boot. He has an old trumpet that goes rooty-toot - And two lovely sisters who play on the flute - But Mr Magnolia has only one boot. In this wittily rhyming picture book, Mr Magnolia has a full and happy life except for one serious omission - a boot. But one day, he receives a mysterious parcel, and at last Mr Magnolia can splash in the puddles with everyone else!
Quentin Blake Mrs Armitage On Wheels
Mrs Armitage sets off for a quiet cycle with her faithful dog, Breakspear, but she just can't help thinking of ways to improve her bicycle. Before very long she has added three very loud horns, a bucket of water to wash her hands, a complete tool kit. And by the time she has also added a seat for Breakspear, two umbrellas, a cassette player and a mouth-organ, Mrs Armitage is riding a very eye-catching contraption. But it is when she finally adds the mast and sail, that Mrs Armitage really runs into trouble. . .
Quentin Blake Angelica Sprocket's Pockets
Angelica Sprocket lives next door. Her overcoat has pockets galore! And you'll never guess what's in them... Prepare to be surprised, thrilled and tickled pink by Angelica Sprocket's never-ending pockets, and the marvellous things she keeps in them!
Quentin Blake Mrs Armitage & The Big Wave
Mrs Armitage arrives on the beach with her surfboard and her faithful dog Breakspear, and paddles out to sea to wait for the Big Wave. But, of course, Mrs Armitage can't be satisfied with just an ordinary surfboard and she is soon adding a hilarious variety of gadgets and contraptions. And when the Big Wave finally arrives, Mrs Armitage certainly surfs with style!
Quentin Blake All Join In
'And if Ferdinand decides to make a chocolate fudge banana cake What do we do? For goodness sake! We ALL JOIN IN!' This book is a rumbustious, rollicking and above all noisy collection of seven exuberant poems, perfect for chanting aloud, that are brilliantly illustrated by the incomparable Quentin Blake. The collection includes 'All Join In', 'The Hooter Song', 'Nice Weather for Ducks' and 'Sorting Out the Kitchen Pans'. Who coud possibly resist?
Payment & Security
Payment methods
Your payment information is processed securely. We do not store credit card details nor have access to your credit card information.
---
Security