Roll over image to zoom in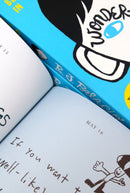 Titles In This Set:
365 Days of Wonder
Auggie & Me
Wonder


365 Days of Wonder
365 DAYS OF WONDER is a beautiful companion to the novel: a collection of quotes and wise words, one for every day of the year. It includes funny, insightful, inspiring thoughts from WONDER's fans, famous authors and personalities - from Roald Dahl and Paul McCartney to Anne Frank, Tolkien and Popeye - and from the novel itself.


Auggie & Me
Now, in AUGGIE & ME, you can discover a new side to the WONDER story in three new chapters from three different characters: Julian: Auggie's classroom bully, Christopher: Auggie's oldest friend, Charlotte: Auggie's classmate. These three stories are heartbreaking, surprising, funny and hopeful. Just like WONDER, AUGGIE & ME will make you laugh, cry and try to choose kind.


Wonder
Auggie wants to be an ordinary ten-year-old. He does ordinary things - eating ice cream, playing on his Xbox. He feels ordinary - inside. But ordinary kids don't make other ordinary kids run away screaming in playgrounds. Ordinary kids aren't stared at wherever they go. Born with a terrible facial abnormality, Auggie has been home-schooled by his parents his whole life.
Payment & Security
Payment methods
Your payment information is processed securely. We do not store credit card details nor have access to your credit card information.
---
Security