Roll over image to zoom in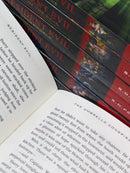 Titles In this Set:
The Umbrella Conspiracy
Caliban Cove
City of the Dead
Underworld
Nemesis
Code: Veronica
Zero Hour
The Umbrella Conspiracy:
Raccoon City: a remote mountain community suddenly besieged by a rash of grisly murders. At the epicenter, a dark secluded mansion belonging to the mysterious Umbrella Corporation.

Caliban Cove:
Combat medic and biochemist Rebecca Chambers, the sole survivor of Bravo Team, joins a new S.T.A.R.S. strike force when rumor comes of another Umbrella experiment.

City of the Dead:
Leon Kennedy, a rookie cop on a new assignment, and Claire Redfield, sister of the still-missing S.T.A.R.S. member Chris, arrive at Raccoon City to discover a necropolis.

Underworld:
Beneath the deserts of the American Southwest, one of the Umbrella Corporation's most elaborate facilities is about to go online.

Nemesis:
Zombies. Mutant animals. Bioengineered weapons and surgically enhanced monsters. Secret labs and widespread conspiracies.

Code: Veronica:
Claire Redfields desperate search for her missing brother leads her to a remote island, where a mad genius has unleashed every grotesque creature at his disposal to stop her from interfering with his horrific agenda.

Zero Hour:
Sent to investigate a series of grisly murders in Racoon City, S.T.A.R.S Bravo Team scrambles into action. Following a helicopter crash, the team stumble across a gruesome sight.
Payment & Security
Payment methods
Your payment information is processed securely. We do not store credit card details nor have access to your credit card information.
---
Security