Roll over image to zoom in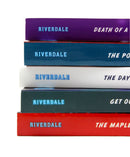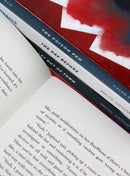 Titles In this Set:
The Day Before
Get Out of Town
The Maple Murders
Death of a Cheerleader
The Poison Pen
The Day Before
An all-new and completely original tie-in novel to the hit NETFLIX show. Why did Jughead and Archie have a falling out? What did Veronica's life look like in the Big Apple? And how long has Betty really been in love with Archie?
Get Out of Town
The gang heads out for an epic road trip to Chicago to visit Archies mom. When Archies too busy daydreaming to drive, Veronica takes the drivers seat naturally. Betty wants to see the important sights, and Jughead just wants to find the best diners.
The Maple Murders
Riverdale is clamouring with excitement over news that an old town tradition is suddenly being revived: the Riverdale Revels. The festival supposedly has a long history, dating back to the town's settlers' first successful maple tapping.
Death of a Cheerleader
Betty, Veronica, Cheryl and the rest of the River Vixens are heading out of town for the weekend on a cheerleading retreat. So Archie, Jughead and the rest of the guys decide to have a poker night at La Bonne Nuit.
The Poison Pen
Archie, Betty, Jughead, Veronica, and the rest of the gang are all getting ready for the next stage of their lives after high school graduationor, at least, they're trying to. But then, one by one, they all receive a mysterious letter from someone calling themselves the Poison Pen.
Payment & Security
Payment methods
Your payment information is processed securely. We do not store credit card details nor have access to your credit card information.
---
Security