Roll over image to zoom in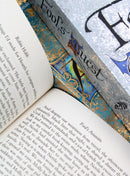 Titles in this set:
Fool's Assassin 
Fool's Quest 
Assassin's Fate
Fool's Assassin
Tom Badgerlock has been living peaceably in the manor house at Withywoods with his beloved wife Molly these many years, the estate a reward to his family for loyal service to the crown. But behind the facade of respectable middle-age lies a turbulent and violent past. For Tom Badgerlock is actually FitzChivalry Farseer, bastard scion of the Farseer line, convicted user of Beast-magic, and assassin. A man who has risked much for his king and lost more…
Fool's Quest
Years ago, they freed a dragon from the glaciers on Aslevjal. Then they parted, the Fool returning to far-off Clerres, while Fitz finally claimed a wife, a family, and a home of his own. Now, betrayed and broken, the Fool has made his way back to the Six Duchies. But as Fitz attempts to heal his old friend in Buckkeep Castle his young daughter Bee is abducted from Withywoods by mysterious raiders who leave ruin and confusion in their wake.
The much-anticipated final conclusion to the Fitz and the Fool trilogy.Prince FitzChivalry Farseer's daughter Bee was violently abducted from Withywoods by Servants of the Four in their search for the Unexpected Son, foretold to wield great power. With Fitz in pursuit, the Servants fled through a Skill-pillar, leaving no trace. It seems certain that they and their young hostage have perished in the Skill-river.
Payment & Security
Payment methods
Your payment information is processed securely. We do not store credit card details nor have access to your credit card information.
---
Security