Roll over image to zoom in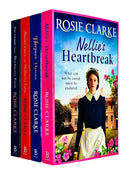 Titles In This Set:
Nellie's Heartbreak
Harpers Heros
Stormy Days On Mulberry Lane
War Clouds Over Blackberry Farm
Nellie's Heartbreak:

A standalone saga set in Yorkshire at the outbreak of the second world war and the unlikely relationship between a master and servant. As a small child, Nellie Peace was always dreaming but sensed her mother's rejection. Abandoned and sent into service at Beaumont House at an early age, Nellie is lost and alone until she meets the unpredictable and reclusive artist, Lucas Harrington and falls in love with him.


Harpers Heros:

The Harpers Girls come face to face with the harsh reality of the cruelty of war. Oxford Street, London 1915. Sally Harper quietly battles to keep Harpers afloat in the difficult days of the war, whilst husband Ben is working all hours for the War Office. Beth Burrow is fighting concern for her husband Jack, now at sea with the Merchant Navy.


Stormy Days On Mulberry Lane:

Peggy Ronoscki is happily settling back into life running her guesthouse on Mulberry Lane, surrounded by close friends and family. Life just seems too good…but then disaster strikes. Pip, her beloved son is left in a coma following a devastating car crash and a young girl collapses in the market leaving Peggy no option but to nurse her back to health.


War Clouds Over Blackberry Farm:

As the clouds of war begin to gather in Europe, the Talbot family of rural Blackberry Farm will be torn apart, just as so many families all over the world will be. Life will never be the same again. Whilst in London, the Salmons family will feel the pain of parting and loss. Brought together by war, the two families become intertwined and, as the outlook looks bleak.
Payment & Security
Payment methods
Your payment information is processed securely. We do not store credit card details nor have access to your credit card information.
---
Security