Roll over image to zoom in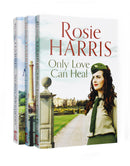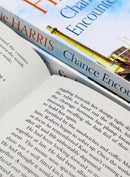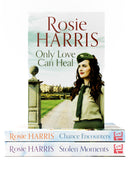 Titles In this Set:
Only Love Can Heal
Chance Encounters
Stolen Moments
Only Love Can Heal
Lieutenant Kate Russell's post-war life was all mapped out. According to her upper class parents' wishes, she planned to marry a man with a pedigree like her own. But fate had other ideas in the form of Robert Campbell, a mere staff driver. Kate is irresistibly drawn to him and they decide to wed. Her family, initially outraged by the proposal, agree to accept their marriage but only if Robert climbs the ranks of the army.
But when the Allied forces declare victory and Robert goes on to become a Major, Kate finds that she has another bitter war to fight. Trapped by the possessive demands of her aristocratic parents, she fights her own lonely battle to save her marriage and her reputation.
Chance Encounters
As the Second World War continues to bring heartache to those left behind, Megan Lloyd is determined to do her bit for the war effort. She is appalled by the plight of young women left pregnant and destitute following ill-fated love affairs with passing sailors or American GIs, and establishes a place of refuge for unmarried mothers.
But Megan's plan incurs her father's intense disapproval and she finds herself cast out from the family and unprepared for the challenges ahead. Her new life is full of trauma, drama and heartbreak, but can she find joy and love as well?
Stolen Moments
Eighteen-year-old domestic servant Kate Stacey is passionately in love with David Owen, the brother of Lady Helen Sherwood. They both know their romance would be a scandal but seeing a chance for them to spend more time together, David recommends Kate as nanny to his young nieces at Bramwood Hall. Their secret relationship is soon discovered and he is recalled to his father's industrial empire in the Welsh Valleys, while Kate is abruptly dismissed.
Kate follows her heart, and David, to Wales. However, she is shocked by the poverty and squalid conditions on which the Owen fortune is built. As her sympathies increasingly lie with the workers, she finds herself dangerously caught up in their political cause. Her love for David endures, but is he strong enough to defy his father - and can Kate contemplate a future built on the proceeds of human misery?
Payment & Security
Payment methods
Your payment information is processed securely. We do not store credit card details nor have access to your credit card information.
---
Security