Roll over image to zoom in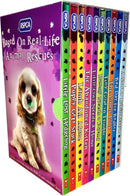 RRP: £49.90Brand NewTitles in This Set
Puppy Gets Stuck
The Abandoned Kitten
The Lonely Pony
Little Owl Needs a Home
Lamb All Alone
Tiny Goat in Trouble
Bunny Needs a Friend
Bad Day for Badger
A Snowy Robin Rescue
Little lost Hedgehog
DescriptionPuppy Gets Stuck
Emily's new puppy Pickle is adorable.
Then one day, Pickle goes missing. He's got himself stuck, and it's too dangerous for Emily and her family to try and rescue him.
This is a job for the RSPCA - but they're going to need Emily's help...
The Abandoned Kitten
The RSPCA have received some very special patients.
Three newborn kittens have been abandoned in a storm. They need urgent care, and Lily's mum - and RSPCA worker - takes them home so she can feed them through the night. But the smallest one is weak and struggling to eat.. Can Lily help the tiny tabby get better?
The Lonely Pony
There's a new arrival at the RSPCA centre.
Polly the pony is thin and frightened and needs lots of love.
At first she's too scared to go near humans, but Mia and her mother - a groom at the centre - spend weeks gently nursing her back to health.
Can this lonely pony learn to trust again?
Little Owl Needs a Home
Josh has made an expected discovery - four baby owls!
Their home has been destroyed, and nowhere to live. The RSPCA rush to the rescue, but they know these birds belong in the wild.
Can Josh help find a new home for owls?
Lamb All Alone
It's been raining for days and Ben's village has flooded.
Luckily, the RSPCA are on hand to rescue the sheep near his house. Ben and his family rush to help!
But not all the sheep have been herded to safety. A tiny lamb has been left behind.
The RSPCA need to act fast - and Ben has an idea that might just save the day.
Tiny Goat in Trouble
Harry has spotted a tiny goat on a cliff ledge.
The goat has been separated from its mother and is unable to make it back up the cliff. Harry and his aunt call the RSPCA, who send out a rescue team.
Can they reach the little goat in time?
Bunny Needs a Friend
Sarah is shocked to discover a baby rabbit by the road!
The bunny is cold and all alone, so Sarah's dad calls the RSPCA. They take Bunny to an RSPCA centre, where she makes a good recovery. But Sarah can't stop thinking about her...
Bad Day for Badger
Lewis has spotted an injured badger. The badger has hurt its leg and needs looking after. But as Lewis gets closer, it runs under a parked van and gets well and truly stuck!
This is a job for the RSPCA - and they'll need the help of a Fire and Rescue team too.
Can they free the little badger?
A Snowy Robin Rescue
Evan and Hannah have found a robin in the snow. It's not moving, and they soon realize that the tiny robin is stuck!
They call the RSPCA and an inspector arrives to help. It's snowing heavily and they need to act fast. Can the RSPCA perform a snowy robin rescue?
Little lost Hedgehog
Grace is out in the garden feeding her rabbits when she hears a rustle in the flower bed. What could it be? She sits very still by the kitchen door, peering out into the dark. And then she sees some little paws, two shiny eyes, a twitching nose... it's a tiny hedgehog! But where is its family? This little hedgehog looks lost and hungry. So Grace's mum calls the RSPCA who come and collect it. They take it back to their centre and nurse it back to health.
Payment & Security
Payment methods
Your payment information is processed securely. We do not store credit card details nor have access to your credit card information.
---
Security