Roll over image to zoom in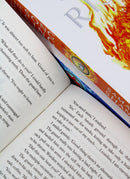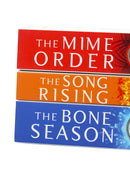 Titles In This Set:
The Song Rising
The Mime Order
The Bone Season
The Song Rising:
Following a bloody battle against foes on every side, Paige Mahoney has risen to the dangerous position of Underqueen, ruling over London's criminal population. But, having turned her back on Jaxon Hall and with vengeful enemies still at large, the task of stabilising the fractured underworld has never seemed so challenging.

The Mime Order:
In an unprecedented feat of bravery, Paige Mahoney has succeeded in leading a mass break-out from the brutal camp, Sheol I, where she and other clairvoyants were systematically imprisoned. Paige is desperate to reach the safety of the London underworld, but the ruthless leader of the Rephaim, Nashira Sargas, is not likely to let her escape so easily.

The Bone Season:
For the past two hundred years the Scion government has led an oppressive campaign against unnaturalness in London. Clairvoyance in all its forms has been decreed a criminal offence, and those who practise it viciously punished. Forced underground, a clairvoyant underworld has developed, combating persecution and evading capture. Paige Mahoney, a powerful dreamwalker operating in the Seven Dials district of London, leads a double life, using her unnaturalness illegally while hiding her gift from her father, who works for the Scion regime...
Payment & Security
Payment methods
Your payment information is processed securely. We do not store credit card details nor have access to your credit card information.
---
Security