Roll over image to zoom in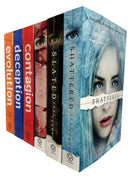 Slated trilogy and dark matter teri terry collection 6 books set includes titles in this set:- Slated, Fractured, Shattered, Contagion, Deception, Evolution. Slated The government claims she was a terrorist, and that they are giving her a second chance - as long as she plays by their rules. But echoes of the past whisper in Kyla's mind. Someone is lying to her, and nothing is as it seems. Who can she trust in her search for the truth?
Fractured Kyla shouldn't be able to remember anything. But she can - and she's beginning to realise that there are a lot of dark secrets locked away in her memories. When a mysterious man from her past comes back into her life, she thinks she's on her way to finding the truth. But the more she learns about her history, the more confusing her future becomes... Shattered After the shocking events of SLATED and FRACTURED, we return to Kyla's oppressive world as she tries to make sense of her life and everything around her.
Set in a disturbing near-future world, this is the conclusion to an engrossing, fast-paced trilogy that establishes Teri Terry as a master thriller writer Contagion Young runaway Callie survived the disease, but not the so-called treatment. Her brother Kai is still looking for her. And his new friend Shay may hold the key to uncovering what truly happened. Deception Kai is desperate to trace Shay, who tricked him and disappeared. Meanwhile, Shay is searching for the truth behind the origins of the epidemic ... but danger finds them wherever they go. Can they outrun the fire?
Evolution Shay has followed Xander and joined his mysterious scientific cult at their remote Scottish compound. She's desperately searching for Callie, who went missing before the start of the epidemic that kills 95% of cases, and leaves a tiny number of survivors with astonishing new powers.
Payment & Security
Payment methods
Your payment information is processed securely. We do not store credit card details nor have access to your credit card information.
---
Security