Roll over image to zoom in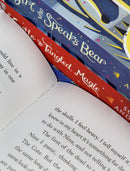 Please Note That The Following Individual Books As Per Original ISBN and Cover Image In this Listing shall be Dispatched Collectively:
Sophie Anderson Collection 4 Books Set:
The Thief Who Sang Storms:

Linnet wishes she could sing magic, like her father, Nightingale - and bring the two sides of her island together again. For her land has been divided by a terrible tragedy, and Linnet has been banished with her father to the deepest swamps, leaving behind her best friends, Hero and Silver.


The House with Chicken Legs:

Marinka dreams of a normal life, where her house stays in one place long enough for her to make friends. But her house has chicken legs and moves on without warning. For Marinka's grandmother is Baba Yaga, who guides spirits between this world and the next. Marinka longs to change her destiny and sets out to break free from her grandmother's footsteps, but her house has other ideas...


The Girl Who Speaks Bear:

Found abandoned in a bear cave as a baby, Yanka has always wondered about where she is from. She tries to ignore the strange whispers and looks from the villagers, wishing she was as strong on the inside as she is on the outside. But, when she has to flee her house, looking for answers about who she really is, a journey far beyond one that she ever imagined begins: from icy rivers to smouldering mountains meeting an ever-growing herd of extraordinary friends along the way.


The Castle of Tangled Magic:

When thirteen-year-old Olia, steps through a magical doorway, she discovers another land. A land tangled by magic, where hope is lost, and a scheming wizard holds all the power. Soon Olia learns that she is destined to save this land, but with time running out and her new friends and family in danger, she must search for the magic within herself - to save everything and everyone she loves.
Payment & Security
Payment methods
Your payment information is processed securely. We do not store credit card details nor have access to your credit card information.
---
Security