Roll over image to zoom in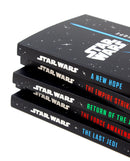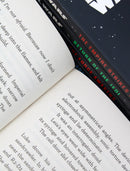 Titles In This Set:

A New Hope
The Empire Strikes Back
Return Of The Jedi
The Force Awakens
The Last Jedi

Description:

A New Hope
An exciting retelling of the original trilogy to celebrate 40 years of Star Wars!
2017 sees the 40th anniversary of the release of Star Wars: A New Hope, the film that launched the greatest space fantasy epic in history. To celebrate this, Egmont are publishing a set of junior novel adaptations of the original trilogy.
Follow the adventures of Luke Skywalker, Princess Leia, Han Solo, Chewbacca and the Rebel Alliance as they fight against the evil Emperor Palpatine, and his sinister agent Darth Vader! Book 1 in a series of three.
The Empire Strikes Back
Even though the Death Star has been destroyed, Imperial forces continue to pursue the rebels. Even as Luke Skywalker journeys to the planet Dagobah to train in the ways of the Force with Jedi Master Yoda, his friends--Han Solo, Princess Leia, Chewbacca, and C-3PO--are caught in a trap laid by Darth Vader to lure Luke to the dark side. To save his friends, Luke confronts Darth Vader in an epic showdown that leads to an earth-shattering revelation.
The battle continues in Star Wars: The Empire Strikes Back Cinestory Comic, a graphic-novel adaptation of the Blu-ray edition of the film that transports fans to a galaxy far, far away.
Return Of The Jedi
"I am a Jedi, like my father before me."
As the Empire prepares to crush the Rebellion with the most powerful Death Star yet built, the rebel fleet mounts a massive attack on the space station, and Luke Skywalker confronts his father, Darth Vader, in a final climactic duel. Joe Books celebrates the epic conclusion to the original Star Wars trilogy in this captivating graphic novel companion built from the final script and high-resolution images from the movie.
The Force Awakens
Revisit the Star Wars universe with the newest addition to the franchise, The Force Awakens. A world awaits you filled with new characters, locations, ships and aliens. Plus, welcome back some of your old favourites like Han Solo, Chewbacca, Leia and Luke.

The Last Jedi
The First Order has the Resistance on the run. Things grow ever more desperate for General Leia Organa, pilot Poe Dameron, and former stormtrooper Finn as they desperately try to evade the First Order fleet. Rey has journeyed to the remote planet Ahch-To to ask legendary Jedi Luke Skywalker to lend his aid to the Resistance, but Luke has closed himself off to the Force and the rest of the galaxy. Rey knows she must convince the Jedi to help bring down the First Order, or all might be lost.

Length - 13.8cm
Width - 16.5cm
Height - 19.5cm
Payment & Security
Payment methods
Your payment information is processed securely. We do not store credit card details nor have access to your credit card information.
---
Security