Roll over image to zoom in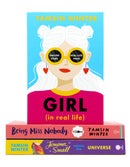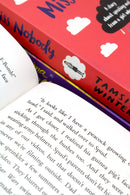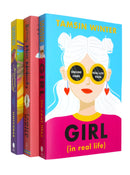 Titles In This Set:
Girl (In Real Life)
Being Miss Nobody
Jemima Small Versus the Universe
Girl (In Real Life)
What's it like to grow up online and have every tantrum, every spot - even your first period - broadcast to hundreds of thousands of followers? A funny and heartfelt novel for fans of Geek Girl, from the award-winning Tamsin Winter: "Fast becoming a favourite for younger teenagers." The Guardian Most parents try to limit their kids' online exposure. But not Eva's. Her parents run a hugely successful YouTube channel, and Eva is the star of the show. But Eva is getting sick of being made to pose in stupid mum-and-daughter matching outfits for sponsored posts. The freebies aren't worth the teasing at school. And when an intensely humiliating "period party" post goes viral, Eva is outraged. She's going to find a way to stop the channel, even if she has to sabotage it herself.

Being Miss Nobody
Rosalind hates her new secondary school. She's the weird girl who doesn't talk. The Mute-ant. And it's easy to pick on someone who can't fight back. So Rosalind starts a blog - Miss Nobody; a place to speak up, a place where she has a voice. But there's a problem... Is Miss Nobody becoming a bully herself?

Jemima Small Versus the Universe
"An ode to body positivity." - The i
"An uplifting and heartening read." - Sunday Express
"An empowering story about body confidence." - The Observer
"Engaging... A powerful antidote to casting shade." - The Sunday Times
I'm going to tell you the word that ruins my entire life: BIG. Because my name is Jemima Small. But I am exactly the opposite.
Payment & Security
Payment methods
Your payment information is processed securely. We do not store credit card details nor have access to your credit card information.
---
Security