Roll over image to zoom in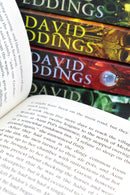 Titles in this set:
Enchanters' End Game
Queen of Sorcery
Magician's Gambit
Castle Of Wizardry
Pawn Of Prophecy
Pawn of Prophecy
Long ago; the evil God Torak fought a war to obtain an object of immense power - the Orb of Aldur. But Torak was defeated and the Orb reclaimed by Belgarath the sorcerer. Garion; a young farm lad; loves the story when he first hears it from the old storyteller. But it has nothing to do with him. Or does it? For the stories also tell of a prophecy that must be fulfilled - a destiny handed down through the generations. And Torak is stirring again
Queen of Sorcery
Legends tell how Belgarath the sorcerer and his daughter Polgara defeated the evil God Torak; imprisoning him in an endless sleep. But now a priest of Torak is racing to his God with the Orb of Aldur and is racing to reawaken him. Belgarath and Polgara are on his trail. With them is Garion; a simple farm boy only months before. And with each league the group travel; the power of sorcery is growing in Garon
Magician's Gambit
Many thousands of years ago; two prophecies came into being and a moment was
fixed; when only one would determine the future. This moment; a clash between the maimed god Torak and the descendant of the Rivan king; is approaching . . . Garion; was brought up as a farm lad but is now beginning to understand the extent of his part in the prophecy; and working hard to control his sorcerous power.
Castle of Wizardry
Garion and his companions now have the Orb of Aldur; carried by an innocent young boy; and must return it to its rightful home on the pommel of the sword in the Great Hall on the island of Riva .As they journey across the lands; Murgo soldiers and Grolim sorcerers try to stop them. But Garion's true adversary; the evil God Torak - is waking up in his dark tomb - ready for the final conflict
Enchanters End Game
A confrontation that has been prophesied for thousands of years is racing towards a conclusion. For as Garion comes into his heritage as the Rivan King; Overlord of the West; and takes up the Orb of Aldur to protect the land; Torak awakes and his evil hordes of Murgo soldiers and Grolim priests march in his name. While the princess Ce'Nedra mobilises the forces of the free lands to repel the invaders; Garion heads for his duel with Torak - a duel upon which the fate of the whole world depends...Young Adult
Payment & Security
Payment methods
Your payment information is processed securely. We do not store credit card details nor have access to your credit card information.
---
Security