Roll over image to zoom in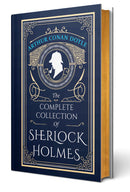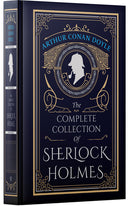 Enter the intriguing world of the brilliant detective Sherlock Holmes with "The Complete Collection of Sherlock Holmes" in this luxurious leather-bound edition. This captivating volume compiles all of Sir Arthur Conan Doyle's iconic tales, featuring Holmes and his faithful companion, Dr. John Watson, as they solve some of the most enigmatic and thrilling mysteries of their time.
Sir Arthur Conan Doyle's masterful storytelling, marked by keen observation, astute deduction, and unforgettable characters, has enthralled readers for generations. From the unforgettable "A Scandal in Bohemia" to the chilling "The Hound of the Baskervilles" and the ingenious "The Adventure of the Speckled Band," each story is a masterpiece of suspense and intellectual intrigue.
Bound in rich leather with meticulous embossing, gilded pages, and a ribbon marker, this edition is a collector's dream. Whether displayed proudly on your bookshelf or savored page by page, this leather-bound collection is an ode to the enduring appeal of Sherlock Holmes. Delve into the investigations of the world's most famous detective in a form that exudes sophistication and elegance, and let the enigma of Holmes and the charm of Victorian London come to life as you immerse yourself in these timeless tales.
Payment & Security
Payment methods
Your payment information is processed securely. We do not store credit card details nor have access to your credit card information.
---
Security