Roll over image to zoom in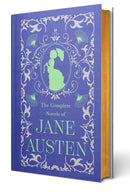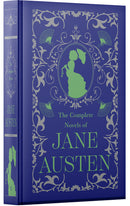 Indulge in the world of timeless romance and witty social commentary with "The Complete Novels of Jane Austen." This exquisite collection brings together all of Austen's beloved novels, including classics like "Pride and Prejudice," "Sense and Sensibility," and "Emma." In these pages, you'll find the genteel society of 19th-century England, where love, class, and manners entwine in a delicate dance.
Jane Austen's novels are known for their keen observations of human nature, their sharp humor, and their enduring relevance. Her heroines, from the spirited Elizabeth Bennet to the endearing Elinor Dashwood, continue to captivate readers' hearts. With rich character development and intricate storytelling, Austen's works transcend time and place, making them as resonant today as they were in her era.
This comprehensive collection is a literary treasure, beautifully bound and waiting to transport you to a world of courtship, intrigue, and the complexities of society. Whether you're a devoted Austen enthusiast or a newcomer to her prose, this anthology is a gateway to the elegance and insight of one of literature's most beloved authors. Immerse yourself in the world of Jane Austen and discover the enduring magic of her novels through this beautifully curated volume.
Payment & Security
Payment methods
Your payment information is processed securely. We do not store credit card details nor have access to your credit card information.
---
Security