Roll over image to zoom in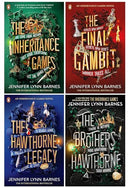 Introduction 
The "The Inheritance Games Series 4 Books Collection Set" by Jennifer Lynn Barnes is a gripping and intricate tale of mystery, family, and unexpected twists. The series unfolds in four books, starting with "The Inheritance Games" and progressing through "The Hawthorne Legacy," "The Final Gambit," and concluding with "The Brothers Hawthorne."
Titles In this Set:
The Inheritance Games:
The Hawthorne Legacy:
The Final Gambit:
The Brothers Hawthorne (Hardback)

The Inheritance Games:
She came from nothing. Avery has a plan: keep her head down, work hard for a better future. Then an eccentric billionaire dies, leaving her almost his entire fortune. And no one, least of all Avery, knows why. They had everything. Now she must move into the mansion she's inherited. It's filled with secrets and codes, and the old man's surviving relatives - a family hell-bent on discovering why Avery got 'their' money. Now there's only one rule: winner takes all. Soon she is caught in a deadly game that everyone in this strange family is playing. But just how far will they go to keep their fortune?

The Hawthorne Legacy:
One step forward. Avery thought that solving the riddle left by billionaire Tobias Hawthorne would reveal why he left her - a complete stranger - his entire fortune. Two steps back. But as the cryptic clues tale an unexpected twist and the handsome and enigmatic Hawthorne grandsons continue to pull her in different directions, Avery can't help but wonder who she can really trust and who is just looking out for themselves. What happens when the truth just hides more secrets? Soon Avery realizes this game is no longer just about money and power. Now she's playing for her life.

The Final Gambit:
To inherit billions, all Avery Kylie Grambs has to do is survive a few more weeks living in Hawthorne House. The paparazzi are dogging her every step. Financial pressures are building. Danger is a fact of life. And the only thing getting Avery through it all is the Hawthorne brothers. Her life is intertwined with theirs. She knows their secrets, and they know her.
The Brothers Hawthorne (Hardback)

The series concludes with "The Brothers Hawthorne," where the intricate threads of the narrative come together in a satisfying and surprising climax. The Hawthorne family's history, motivations, and the true nature of Avery's inheritance are unveiled, bringing the saga to a compelling close.
Throughout the series, Jennifer Lynn Barnes weaves a complex and suspenseful narrative, blending elements of mystery, family drama, and unexpected alliances. The books offer readers a thrilling and engaging experience as they follow Avery's journey through the challenges and revelations that define the Hawthorne legacy.
Payment & Security
Payment methods
Your payment information is processed securely. We do not store credit card details nor have access to your credit card information.
---
Security