Roll over image to zoom in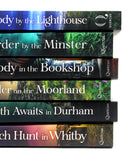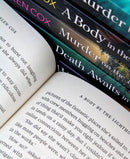 Titles In This Set:
Murder by the Minster
A Body in the Bookshop
Death Awaits in Durham
A Witch Hunt in Whitby
Murder on the Moorland
A Body by the Lighthouse 
Murder by the Minster:
It's a perfectly normal day for Kitt Hartley at her job at the University of the Vale of York library, until Detective Inspector Halloran arrives at her desk to tell her that her best friend, Evie Bowes, is under suspicion of murder.

A Body in the Bookshop:
Librarian Kitt Hartley and her friend Evie Bowes thought their life had gone back to normal after the shocking events of Murder by the Minster. Then DI Malcolm Halloran breaks some bad news.

Death Awaits in Durham:
When librarian and budding private investigator Kitt Hartley visits her ex-assistant Grace Edwards in Durham, she soon learns of an unsolved murder. A year ago Jodie Perkins, a Mechanics student, disappeared after her student-radio broadcast was cut short with a deafening scream.

A Witch Hunt in Whitby:
A serial killer is loose in Yorkshire, and has claimed three victims in three months. Eleven days before each murder, a large purple V is painted on the front door of the victim's house. The victims, all of whom have some association with the occult, are found drained of blood with two red marks on their neck.
Murder on the Moorland:
Kitt Hartley wakes to the news that a murder has been committed in Irendale, a village high on the wild Yorkshire moors where her boyfriend, DI Malcolm Halloran lived with his ex-wife until she, too, was murdered.
A Body by the Lighthouse 
Private investigator 

Kitt Hartley

 and her twin sister Rebecca are preparing for a holiday in Scotland when cruise ship entertainer Errol Jackson appears at the door. Errol breaks the news that Bryce Griffin, a former smuggler and an old friend of Kitt's, has been murdered: his body found washed up by a lighthouse, bearing a gunshot wound.

Kitt persuades Rebecca to cancel their trip and, together with Kitt's assistant Grace Edwards and best friend Evie Bowes, books onto the next cruise to Norway to help with the ongoing murder investigation.

Aboard the cruise ship Kitt, Grace and Rebecca encounter burlesque dancers, casino dealers, drag queens and a talking parrot named Skittles - seemingly the only witness to Bryce's death. But what dark secrets are lurking below deck? 

Can Kitt catch the killer before it's too late?
Payment & Security
Payment methods
Your payment information is processed securely. We do not store credit card details nor have access to your credit card information.
---
Security