Roll over image to zoom in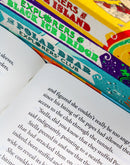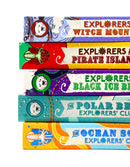 Titles In this Set:
The Polar Bear Explorers Club
Explorers on Witch Mountain
Explorers on Black Ice Bridge
The Ocean Squid Explorers' Club
Explorers at Pirate Island
The Polar Bear Explorers Club
It sounded like a respectable and worthy enough death for an explorer - tumbling from an ice bridge to be impaled upon a mammoth tusk - but Stella really, really didn't want that to happen, just the same.
Explorers on Witch Mountain
Stella Starflake Pearl is eagerly anticipating her next expedition. Suddenly disaster strikes when Stella's father, Felix, is snatched by a fearsome witch. Stella must bring her magic ice princess tiara to Witch Mountain or she will never see Felix again!
Explorers on Black Ice Bridge
In the third magical Stella Starflake adventure the explorers meet gargoyles, sea-gremlins, mermaids, red devil squids - even a Gentleman Flamingo!Ice princess Stella Starflake and her father Felix are in trouble: President Fogg has expelled them from the Polar Bear Explorers' Club, and banned them from going on any further expeditions.
The Ocean Squid Explorers' Club
Ursula knew the submarine wasn't designed to go this deep, but what choice did they have? No one wanted to get swallowed up by a colossal sneezing jellyfish!
Explorers at Pirate Island
The Poison Tentacle Sea was home to the powerful Bone Current. As they had feared, it gave a sudden surge and pulled them in. Half-mermaid Ursula Jellyfin has always longed for adventure, and this time the stakes are higher than ever.
Payment & Security
Payment methods
Your payment information is processed securely. We do not store credit card details nor have access to your credit card information.
---
Security