Roll over image to zoom in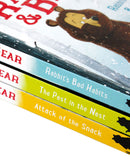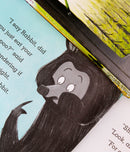 Titles In this Set:
Rabbit's Bad Habits
The Pest in the Nest
Attack of the Snack
Rabbit's Bad Habits
Bear wakes up early from hibernation. If she can't sleep, then at least she can make a snowman. Rabbit has never made a snowman, but he definitely wants to make one that's better than Bear's. But with an avalanche and a hungry wolf heading his way, Rabbit soon realises that it might be nice to have a friend on his side.
The Pest in the Nest
Owch. He's hurt his own ears again. What with Bear's snoring, and a BANG!BANG!BANG! noise from up in the tree, Rabbit knows that Something Simply Has To Be Done .But high in the branches, perhaps Bear can show Rabbit how to see the world from a different place ...From novelist and playwright Julian Gough, and the winner of the Roald Dahl Funny Prize, Jim Field, this is a tale of friendship, wisdom, and how to be REALLY NOISY.
Attack of the Snack
SPLASH! A Mysterious Thing lands in Rabbit and Bear's peaceful summer lake. Is it exciting, or terrifying? Is it a tiny fluffy owl, or a huge hungry monster? And has Rabbit finally met a creature with worse habits than himself? Rabbit's SURE he can solve this mystery. But when he accidentally turns the Best Day Ever into the Worst Day Ever, he needs Bear's help ...
Payment & Security
Payment methods
Your payment information is processed securely. We do not store credit card details nor have access to your credit card information.
---
Security