Roll over image to zoom in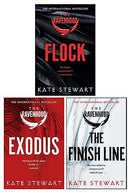 Introduction 
The Ravenhood Series by Kate Stewart is a captivating and emotionally charged trilogy that delves into the complexities of love, power, and the human spirit. With compelling characters, intricate plotlines, and a touch of darkness, the series takes readers on an unforgettable journey of romance, suspense, and self-discovery. Fans of gripping, emotionally-driven stories with a hint of intrigue will be enthralled by this addictive series.
Titles in this Set 
Flock
Exodus
The Finish Line
Description 
Book 1: "Flock": In the first book of The Ravenhood Series, "Flock," we meet Cecelia "Celie" Watson, a woman trying to escape her troubled past and make a fresh start. But when her path crosses with Sean Bell, a charismatic and enigmatic man with a dark reputation, her life takes an unexpected turn. Drawn to Sean and the allure of his world, Celie becomes entangled in a web of secrets, lies, and dangerous desires. As their forbidden connection deepens, Celie finds herself torn between her heart's desires and the truth about Sean's dangerous affiliations. With the Ravenhood, a powerful and mysterious organization, looming in the shadows, Celie must confront her past and make difficult choices that will shape her future.
Book 2: "Exodus": In "Exodus," the second book of The Ravenhood Series, Celie and Sean's relationship faces new challenges and revelations. As Celie delves deeper into Sean's complex world, she uncovers shocking truths about her own past and her family's involvement with the Ravenhood. The dangerous allure of the organization becomes harder to resist, and Celie must navigate treacherous waters to protect herself and those she loves. With loyalty and betrayal at every turn, Celie's journey takes unexpected twists, testing her resilience and forcing her to confront her deepest fears. As the lines between good and evil blur, Celie must decide where her loyalties truly lie, and if she can find redemption amidst the darkness.
Book 3: "The Finish Line": The electrifying conclusion of The Ravenhood Series, "The Finish Line," follows Celie as she races towards the truth and the ultimate showdown with the Ravenhood. As secrets are revealed and loyalties are put to the test, Celie must summon all her strength and courage to confront the darkness that surrounds her. With lives on the line and the fate of those she loves hanging in the balance, Celie's journey comes full circle. The truth about the Ravenhood and its sinister reach is exposed, and Celie must make a stand against the forces that threaten to consume her world. In this thrilling finale, the ultimate battle of love, sacrifice, and redemption unfolds, leaving readers breathless and satisfied with the epic conclusion of the series.
Payment & Security
Payment methods
Your payment information is processed securely. We do not store credit card details nor have access to your credit card information.
---
Security