Roll over image to zoom in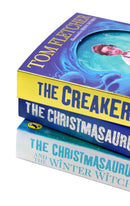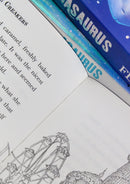 Titles In this Set
The Christmasaurus
The Christmasaurus and the Winter Witch
The Creakers
The Christmasaurus:
This is a story about a boy named William Trundle and a dinosaur named the Christmasaurus. It's about how they meet one Christmas Eve and have a magical adventure. It's about friendship and families, sleigh bells and Santa, singing elves and flying reindeer. It's about discovering your heart's true desire, and learning that the impossible might just be possible . . .

The Christmasaurus and the Winter Witch :
A year has passed since a boy named William Trundle had an incredible adventure with the most extraordinary dinosaur: the Christmasaurus. Now, William is about to be swept back to the North Pole and meet the icy, mysterious and magical Winter Witch, whose power to control time allows Santa to travel all around the world on Christmas Eve.

The Creakers:
Lucy's friends are thrilled there are no more grown-ups. They're running wild! They're building roads of trampolines, and eating cereal for every meal. But Lucy wants her mum back, and nothing is going to stop her. Even if it means having to venture into the strange, upside-down world of the mysterious monsters under her bed...And the upside-down world isn't the most hygienic of places . . .
Payment & Security
Payment methods
Your payment information is processed securely. We do not store credit card details nor have access to your credit card information.
---
Security