Roll over image to zoom in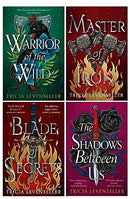 Introduction
The "Tricia Levenseller Collection 4 Books Set" presents a captivating compilation of four thrilling and imaginative novels, each brimming with strong characters, epic quests, and unexpected romance. Tricia Levenseller's masterful storytelling transports readers to fascinating realms, where heroines face formidable challenges and discover their true strength.
Titles in this Set:
Blade of Secrets,
Master of Iron
Warrior of the Wild
The Shadows Between Us
Description 
Book 1: "Blade of Secrets": In this enchanting tale, readers are introduced to Ziva, a skilled blacksmith who harbors a remarkable secret - her ability to control the mystical metal called "zin." When her peaceful village falls under attack, Ziva embarks on a perilous journey to seek aid from an elusive group of warriors known as the "Swordmasters." As she grapples with her newfound identity as the "Master of Iron," Ziva must learn to wield her powers responsibly while confronting a dark threat that endangers her kingdom. This thrilling adventure explores themes of self-discovery, friendship, and the consequences of wielding extraordinary power.

Book 2: "Master of Iron": Continuing the riveting saga, "Master of Iron" follows Ziva's continued journey as a member of the Swordmasters. Now more comfortable with her abilities, Ziva faces new challenges as she delves deeper into her world's intricacies. A shadowy force threatens her newfound home, forcing Ziva to confront her past and embrace her destiny as the true Master of Iron. With an enthralling blend of magic, action, and personal growth, this book takes readers on an unforgettable quest filled with suspense and emotion.

Book 3: "Warrior of the Wild": In a departure from the previous tales, "Warrior of the Wild" introduces readers to Rasmira, a fierce warrior and heir to her village's leadership. However, when a false accusation shatters her dreams, Rasmira is banished to the dangerous Wilderlands. To regain her honor, she must complete a seemingly impossible task: kill the oppressive god that haunts the wilderness. Through her journey of survival and self-redemption, Rasmira discovers the strength within herself and the importance of forgiveness and determination.

Book 4: "The Shadows Between Us": In this thrilling standalone novel, we meet Alessandra, a cunning and ambitious young woman who aspires to become the queen. With a ruthless determination, Alessandra schemes to marry the elusive and powerful Shadow King, intending to kill him and claim the throne for herself. However, her plans become more complicated as she finds herself falling for the enigmatic king. This tale of intrigue, romance, and political maneuvering showcases a captivating anti-heroine who must navigate dangerous games of power while safeguarding her heart.
The "Tricia Levenseller Collection 4 Books Set" offers an enthralling assortment of adventures, each with its unique world and fearless protagonist. From wielding magical metals to battling oppressive gods and pursuing royal ambitions, these stories delve into themes of identity, resilience, and the transformative power of love and sacrifice. With its blend of action, romance, and fantastical elements, this collection will captivate fantasy enthusiasts and leave readers yearning for more of Tricia Levenseller's imaginative storytelling.
Payment & Security
Payment methods
Your payment information is processed securely. We do not store credit card details nor have access to your credit card information.
---
Security