Roll over image to zoom in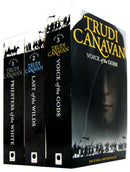 Titles in this Set:
Priestess Of the White 
Last of the Wilds 
Voice of the Gods 
Priestess Of the White:
Sadly, Auraya has little time to adapt to the exceptional powers gifted her by the gods. Mysterious black-clad sorcerers from the south plague the land, and rumours reach the White of an army being raised. Auraya and her new colleagues work tirelessly to seal alliances and unite the northern continent under their banner, but time is running out.
War is coming to the lands of the White, and unless Auraya can master her new abilities, even the favour of the gods may not be enough to save them . . 

Last of the Wilds:
Although the architect of the White's victory, Auraya feels no joy. Her days are spent trying to reconcile the Dreamweavers and the priesthood, while her sleep is filled with nightmares. The dead haunt her and the only one she trusts to help has vanished.
Still struggling to come to terms with the increasingly powerful memories of the long-dead Mirar, the Dreamweaver, Leiard, flees into the mountains with Emerahl, perhaps the last of the Wilds. Emerahl is powerfully gifted, and helps Leiard to make sense of his strange jumble of memories. What they discover will change his life, and the world, forever . . .
Voice of the Gods:
Despite her hope for peace as the protector of the Siyee, Auraya is unable to avoid being caught up the building conflict. As the gods' demands increase, Auraya finds that she must choose between those she loves and those she's sworn to serve.
Meanwhile, Mirar enjoys acceptance and respect as he reclaims his place among his people, and Emerahl is at last able to join the Thinkers in their search for the Scroll of the Gods. The Pentadrians, determined to take their revenge on the conquering Circlians, plot and scheme to bring down their enemies by means other than direct conflict. 
Payment & Security
Payment methods
Your payment information is processed securely. We do not store credit card details nor have access to your credit card information.
---
Security