Roll over image to zoom in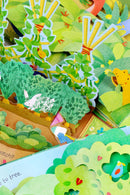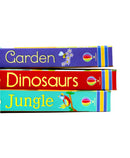 Pop-Up Dinosaurs:
Beware! Open this book and all kinds of dinosaurs will pop out - huge ones, tiny ones, hungry ones, and a very, very noisy one. The 3D scenes show long-necked brachiosaurs munching leaves, nodding triceratops with sharp horns, and a scary T. rex with a very big ROAR. With simple text, this is a delightful book to share with little children.
Pop-Up Jungle:
Creep through the dense undergrowth of the jungle to discover a whole menagerie of exotic animals, just waiting to leap off the pages of this busy pop-up book. Illustrations are brought to live in a riot of colour and detail as you turn each page to see a 3-dimensional scene emerge.
Pop-Up Garden:
Little children can discover a sunny garden full of life in this delightful pop-up book. The three-dimensional scenes show bees buzzing around a flowerbed full of flowers, a mischievous rabbit hiding in the vegetable patch and goldfish swimming beneath the lily pads in the pond. With simple text on each page, this is a pleasure to share together.
Payment & Security
Payment methods
Your payment information is processed securely. We do not store credit card details nor have access to your credit card information.
---
Security