Roll over image to zoom in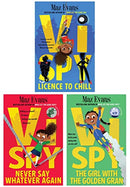 Introduction 

The Vi Spy Series by Maz Evans takes readers on a rollercoaster ride of espionage, intrigue, and humor. Filled with clever twists, memorable characters, and thrilling escapades, these books capture the spirit of adventure and imagination, appealing to young readers and anyone who enjoys a fun and action-packed spy story. Vi's journey from an ordinary girl to a brave and resourceful spy inspires young minds to embrace their unique talents and stand up for what is right, making this series a delightful and entertaining read for all ages.
Titles in this Set:
Licence to Chill,
Never Say Whatever Again 
The Girl with the Golden Gran
Description 
Book 1: "Vi Spy: Licence to Chill": In the first installment of the Vi Spy Series, we are introduced to Violet (Vi) Remy-Robinson, an ordinary girl with an extraordinary talent for solving mysteries. When she receives a mysterious package from her spy parents, Vi discovers she comes from a long line of elite spies. Armed with a new sense of purpose and her trusty sidekick, Mr. Sprout (a talking cabbage), Vi embarks on her spy training at the Academy of Secret Agents. But her dream of becoming a top spy takes an unexpected turn when she uncovers a chilling plot that threatens the world. Vi must put her spy skills to the test and navigate a thrilling adventure filled with twists, gadgets, and humor, all while trying to maintain a secret identity and saving the day.
Book 2: "Vi Spy: Target Hit": In the second book, "Vi Spy: Target Hit," Vi has become a full-fledged agent, balancing her school life and her spy missions with style. But when her arch-nemesis, Dr. Venom, resurfaces with a diabolical plan to control minds worldwide, Vi finds herself facing her most dangerous mission yet. Alongside her quirky and loyal friends from the academy, Vi races against time to unravel Dr. Venom's sinister plot. As she travels to exotic locations, encounters high-tech gadgets, and battles formidable adversaries, Vi must summon all her courage and intelligence to thwart the evil mastermind and safeguard humanity from mind control.
Book 3: "Vi Spy: Game Over": In the thrilling finale of the Vi Spy Series, "Game Over," Vi is confronted with the most personal and challenging mission of her spy career. Her beloved spy parents vanish, leaving behind a series of cryptic clues. As Vi delves deeper into the mystery, she uncovers shocking secrets about her own family's past and their connection to a notorious criminal organization known as The Shadow Syndicate. Determined to rescue her parents and bring down The Shadow Syndicate once and for all, Vi embarks on an action-packed, heart-pounding journey that pushes her spy skills to the limit. Along the way, she learns the true meaning of friendship, loyalty, and sacrifice, all while facing the ultimate test of her spy abilities.
Payment & Security
Payment methods
Your payment information is processed securely. We do not store credit card details nor have access to your credit card information.
---
Security