Roll over image to zoom in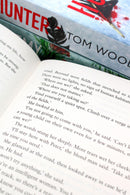 Titles In this Set:
The Hunter:
The Enemy:
The Game:
The Hunter:
Victor is an assassin, a man with no past and no surname. His world is one of paranoia and obsessive attention to detail; his morality lies either dead or dying. No one knows what truly motivates the hunter. No one gets close enough to ask. When a Paris job goes spectacularly wrong, Victor finds himself running for his life across four continents, pursued by a kill squad and investigated by secret services from more than one country. With meticulous style, Victor plans his escape . . . and takes the fight to his would-be killers.

The Enemy:
The mysterious assassin known only as Victor is locked in an uneasy alliance with the CIA. And he has a list: three names, three victims. Worst of all, Victor is given just two days to take down his targets, forcing him to compromise his usual extreme care. With each name Victor crosses off his list, the game grows far more complex - and far more lethal. A conspiracy begins to unwind and suddenly this perfect assassin becomes the perfect target.

The Game:
In sweltering Algiers, ultra-efficient hitman Victor executes a fellow assassin. But when the CIA comes calling, Victor must pose as his victim to identify the dead man's next mark, a mission that takes him across Europe to the bloody streets of Rome. Working alongside a group of vicious mercenaries, Victor faces an impossible choice: to do what's right, or to sacrifice the only thing he cares about . . . his life.
Payment & Security
Payment methods
Your payment information is processed securely. We do not store credit card details nor have access to your credit card information.
---
Security