Roll over image to zoom in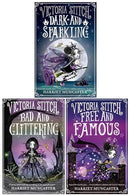 Introduction 
The "Victoria Stitch Series" comprises three books in a captivating collection set: "Victoria Stitch: Bad and Glittering" (Vol 1), "Free and Famous" (Vol 2), and "Dark and Sparkling" (Vol 3). Authored with a blend of mystery, fantasy, and adventure, this series follows the thrilling journey of Victoria Stitch through a world filled with magic, danger, and intrigue.
Titles in this Set:
Victoria Stitch: Bad and Glittering: Vol 1
Free and Famous: Vol 2 
Dark and Sparkling: Vol 3
Description 
In "Bad and Glittering," readers are introduced to Victoria, a character with a mysterious past and a destiny intertwined with magical forces. As the plot unfolds, Victoria must navigate a world where the line between good and evil is blurred, encountering glittering yet perilous challenges.
The second installment, "Free and Famous," propels Victoria into a new set of adventures as she grapples with newfound fame and the responsibilities it brings. The story delves deeper into the complexities of Victoria's character and the magical realm she inhabits, weaving a narrative that keeps readers on the edge of their seats.
The series reaches its climax with "Dark and Sparkling." In this final volume, Victoria faces her most formidable challenges yet, as darkness threatens to engulf the magical world around her. The narrative crescendos into an epic conclusion, unveiling secrets and resolving the mysteries that have unfolded across the series.
Throughout the trilogy, readers will find themselves immersed in a richly imagined world, where the characters are as vibrant as the magical landscapes they traverse. With elements of fantasy, suspense, and a touch of the supernatural, the "Victoria Stitch Series" promises an enthralling reading experience for fans of magical adventures and intricate storytelling.
Payment & Security
Payment methods
Your payment information is processed securely. We do not store credit card details nor have access to your credit card information.
---
Security