Roll over image to zoom in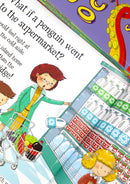 Titles in This Set:
What if a... Could a Tiger Walk a Tightrope?
What If: Would an Elephant Enjoy the Seaside?
Could a Shark do Gymnastics?
What If: Could a Crocodile Play Basketball?
Could a Whale Swim to the Moon?
There's a Triceratops in the Tree House
There's a T-Rex in Town
Could a Monkey Waterski?
Could A Penguin Ride a Bike?
Could An Octopus Climb A Sky Scraper?
Payment & Security
Payment methods
Your payment information is processed securely. We do not store credit card details nor have access to your credit card information.
---
Security