Roll over image to zoom in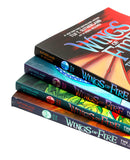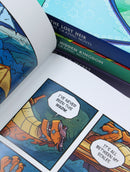 Introduction 
The Wings of Fire Graphic Novels Paperback Box Set is an exciting collection that brings to life the beloved fantasy series by Tui T. Sutherland in graphic novel format. This box set includes the first four graphic novels from the Wings of Fire series, skillfully adapted and illustrated by Mike Holmes.
In this thrilling world of dragons, the graphic novels follow the extraordinary adventures of young dragonets who are destined to play pivotal roles in the fate of their war-torn kingdom. Each dragonet represents a different dragon tribe, each possessing unique powers and traits.
Titles in this Set
The Dragonet Prophecy
The Lost Heir
Hidden Kingdom
The Dark Secret
Description 
"The Dragonet Prophecy," introduces readers to Clay, Tsunami, Glory, Starflight, and Sunny, the dragonets chosen to fulfill a prophecy. Raised in seclusion and trained for battle, they embark on a perilous journey to discover their true destinies and save their world from the clutches of evil.
"The Lost Heir," the dragonets continue their quest as Tsunami, the SeaWing princess, confronts her heritage and faces formidable adversaries in order to claim her rightful place as queen. Alongside her friends, she battles against treachery and emerges as a powerful force.
"The Hidden Kingdom," the third graphic novel, readers join Glory, the RainWing dragonet, on a dangerous mission to the enigmatic Rainforest Kingdom. She must navigate through allies and enemies, unraveling secrets about her tribe and unearthing the mysteries that lie within.
"The Dark Secret," delves into the deep secrets and ancient prophecies that haunt the dragonets. Starflight, the NightWing dragonet, finds himself entangled in a web of lies and manipulation as he unravels the mysteries surrounding his tribe. With lives hanging in the balance, Starflight must confront the darkness within and make choices that will shape the destiny of Pyrrhia.
Through Mike Holmes' stunning illustrations and Tui T. Sutherland's gripping storytelling, the Wings of Fire Graphic Novels Paperback Box Set takes readers on an unforgettable journey through a realm of dragons, prophecies, and thrilling adventures. This box set is a must-have for both avid fans of the original Wings of Fire series and newcomers alike, promising hours of excitement and wonder in the dragon-infested world of Pyrrhia.
Payment & Security
Payment methods
Your payment information is processed securely. We do not store credit card details nor have access to your credit card information.
---
Security