Roll over image to zoom in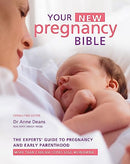 "Your New Pregnancy Bible: The Experts' Guide to Pregnancy and Early Parenthood" by Dr. Anne Deans is an essential and comprehensive resource for expectant parents, providing a wealth of information and guidance on all aspects of pregnancy and early parenthood.
This authoritative guide offers expert advice and up-to-date medical information, making it an invaluable companion for those embarking on the journey of pregnancy. Dr. Anne Deans, a seasoned medical professional, shares her extensive knowledge and experience to help expectant parents navigate the challenges and joys of pregnancy and early parenthood.
The book covers every stage of pregnancy, from conception through childbirth and the postpartum period. It addresses a wide range of topics, including prenatal care, nutrition, exercise, and emotional well-being. It also provides in-depth information on the development of the baby, potential complications, and the latest medical advancements in obstetrics and gynecology.
Furthermore, "Your New Pregnancy Bible" goes beyond pregnancy itself to discuss early parenthood, offering guidance on the first few months of a baby's life. Dr. Deans covers topics such as breastfeeding, infant care, and the emotional adjustments that new parents often experience.
The book is not only a comprehensive reference but also a reassuring companion for expectant parents. It combines expert medical advice with personal anecdotes and real-life stories, making the journey through pregnancy and early parenthood relatable and less daunting. With its clear, easy-to-understand language and helpful illustrations, this book empowers parents to make informed decisions and embrace the challenges and joys of this transformative period in their lives.
In summary, "Your New Pregnancy Bible" is an indispensable guide for anyone expecting a child. Dr. Anne Deans' expertise and compassionate approach to the subject ensure that readers are well-informed and well-prepared for the incredible journey of pregnancy and early parenthood.
Payment & Security
Payment methods
Your payment information is processed securely. We do not store credit card details nor have access to your credit card information.
---
Security