Roll over image to zoom in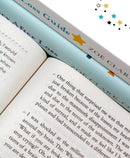 Titles In this Set:
Pregnancy After Loss [Hardcover]:
The Baby Loss Guide:
Beyond Goodbye:
Pregnancy After Loss [Hardcover]:
Pregnancy should be a time of joyous anticipation, but those forty weeks can feel very different if you are one of the many women who has previously lost a baby. In Pregnancy After Loss, Zoe Clark-Coates has created a compassionate and essential guide to lead you, day by day, through your pregnancy.

The Baby Loss Guide:
In The Baby Loss Guide Zoe provides a supportive and practical guide to walk people through their darkest days of suffering and give them hope for the future. The first half of the book answers the many questions those who encounter loss ask themselves and others, which until now have resulted in people spending hours exploring the internet to gain answers and insight.

Beyond Goodbye:
Grief can leave us feeling alone and lost in the world, not knowing where to turn for help. And yet grief is one of the few certainties in life - it is impossible to experience love without suffering loss. Leading grief expert Zoë Clark-Coates examines the different losses we may endure in our lives, and provides the much-needed support that helps you navigate your own path through loss.
Payment & Security
Payment methods
Your payment information is processed securely. We do not store credit card details nor have access to your credit card information.
---
Security