Roll over image to zoom in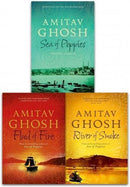 Sea Of Poppies
At the heart of this epic saga, set just before the Opium Wars, is an old slaving-ship, the Ibis. Its destiny is a tumultuous voyage across the Indian Ocean, its crew a motley array of sailors and stowaways, coolies and convicts.
In a time of colonial upheaval, fate has thrown together a truly diverse cast of Indians and Westerners, from a bankrupt Raja to a widowed villager, from an evangelical English opium trader to a mulatto American freedman. As their old family ties are washed away they, like their historical counterparts, come to view themselves as jahaj-bhais or ship-brothers. An unlikely dynasty is born, which will span continents, races and generations.
The vast sweep of this historical adventure spans the lush poppy fields of the Ganges, the rolling high seas, and the exotic backstreets of China. But it is the panorama of characters, whose diaspora encapsulates the vexed colonial history of the East itself, which makes Sea of Poppies so breathtakingly alive - a masterpiece from one of the world's finest novelists.
River Of Smoke
In September 1838 a storm blows up on the Indian Ocean and the Ibis, a ship carrying a consignment of convicts and indentured laborers from Calcutta to Mauritius, is caught up in the whirlwind. When the seas settle, five men have disappeared - two lascars, two convicts and one of the passengers. Did the same storm upend the fortunes of those aboard the Anahita, an opium carrier heading towards Canton? And what fate befell those aboard the Redruth, a sturdy two-masted brig heading East out of Cornwall? Was it the storm that altered their course or were the destinies of these passengers at the mercy of even more powerful forces?
On the grand scale of an historical epic, River of Smoke follows its storm-tossed characters to the crowded harbors of China. There, despite efforts of the emperor to stop them, ships from Europe and India exchange their cargoes of opium for boxes of tea, silk, porcelain and silver. Among them are Bahram Modi, a wealthy Parsi opium merchant out of Bombay, his estranged half-Chinese son Ah Fatt, the orphaned Paulette and a motley collection of others whose pursuit of romance, riches and a legendary rare flower have thrown together. All struggle to cope with their losses - and for some, unimaginable freedoms - in the alleys and crowded waterways of 19th century Canton. As transporting and mesmerizing as an opiate induced dream, River of Smoke will soon be heralded as a masterpiece of twenty-first century literature.
Flood Of Fire
It is 1839 and tension has been rapidly mounting between China and British India following the crackdown on opium smuggling by Beijing. With no resolution in sight, the colonial government declares war.
One of the vessels requisitioned for the attack, the Hind, travels eastwards from Bengal to China, sailing into the midst of the First Opium War. The turbulent voyage brings together a diverse group of travellers, each with their own agenda to pursue. Among them is Kesri Singh, a sepoy in the East India Company who leads a company of Indian sepoys; Zachary Reid, an impoverished young sailor searching for his lost love, and Shireen Modi, a determined widow en route to China to reclaim her opium-trader husband's wealth and reputation. Flood of Fire follows a varied cast of characters from India to China, through the outbreak of the First Opium War and China's devastating defeat, to Britain's seizure of Hong Kong.
Flood of Fire is a thrillingly realised and richly populated novel, imbued with a wealth of historical detail, suffused with the magic of place and plotted with verve. It is a beautiful novel in its own right, and a compelling conclusion to an epic and sweeping story - it is nothing short of a masterpiece.
Length - 12.9cm
Width - 10.2cm
Height - 19.6cm
Payment & Security
Payment methods
Your payment information is processed securely. We do not store credit card details nor have access to your credit card information.
---
Security