Roll over image to zoom in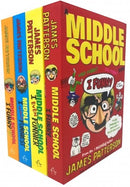 Titles In this Set:
I Funny
I Even Funnier
I Totally Funniest
I Funny Tv
I Funny:

Jamie Grimm is a middle schooler on a mission: he wants to become the world's greatest stand-up comedian - even if he always seems to 'choke' in the spotlight. When Jamie finds out about a contest called the Funniest Kid on the Planet, he knows it's time to face his fears and enter. But are the judges rewarding him out of pity because he happens to be in a wheelchair, like his bullying cousin Stevie suggests? And will Jamie ever share the secret of his troubled past - and reason for his disability - instead of hiding behind his comedy act?
I Even Funnier:
Middle schooler Jamie Grimm has big dreams of being the best stand-up comic in the world – and he won't let the fact that he's in a wheelchair get in his way.

After winning the New York state finals in the Planet's Funniest Kid Comic Contest, Jamie's off to Boston to compete in the national semi-finals. But when one of his best buddies runs into trouble at school and a sudden family health scare rears its head, Jamie has to put his comedic ambitions on hold and stand by the people he cares about.
I Totally Funniest:
Jamie Grimm is back and better than ever in the third episode of James Patterson's bestselling I Funny series. Finding himself one step closer to his dream of being the best kid comic in the world, Jamie faces his biggest challenge yet.
I Funny Tv:
Jamie Grimm has finally accomplished his dream of proving himself the Planet's Funniest Kid Comic, and the sky's the limit from there. Enter a couple of TV executives with a huge plan for Jamie: a new show about Jamie and his oddball friends! But when Jamie struggles to learn the acting ropes, will it be an early curtain call for the biggest show of the decade?
Payment & Security
Payment methods
Your payment information is processed securely. We do not store credit card details nor have access to your credit card information.
---
Security