Roll over image to zoom in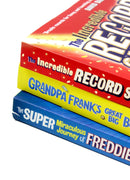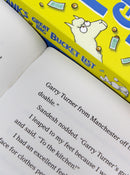 Titles:

The Incredible Record Smashers

Grandpa Frank's Great Big Bucket List

The Super Miraculous Journey of Freddie Yates


The Incredible Record Smashers:

Lucy is a fixer of broken things. But there's one thing she can't fix and that's her unhappy mum. Until she comes up with an INCREDIBLE plan. Along with her best friend, Sandesh, Lucy is going to SMASH a world record. Because she's convinced that starry Paul Castellini - Record Smashers TV host and singing legend - is the answer to her mum's problems. But breaking a world RECORD when watermelons, kumquats, two baddies and a 30 cm shatter-resistant school ruler are involved isn't quite as easy as Lucy thought. Can she learn that sometimes happiness doesn't come with a plan?

Grandpa Frank's Great Big Bucket List:
When Frank John Davenport inherits piles of money from a grandma he didn't know he had, things take an unexpected turn... Because the money comes with STRICT instructions...and a NEW grandpa.
Frank quickly compiles a list of all the ways he can spend the money and look after his grumpy grandpa. Money may buy hot-air balloon rides, monster-truck lessons and epic parkour experiences, but can Frank discover that happiness is, in fact, priceless?


The Super Miraculous Journey of Freddie Yates:

Freddie Yates likes facts. Just not the one staring him in the face - that his secret plan is not, in fact, secret. Because Freddie's journey wasn't meant to involve Big Trev and the onion-eating competition or the loo-exploding pear-and-potato turnovers. And Freddie definitely didn't expect to end up, with his two best friends, on national television in a supergirl costume. But journeys never take you where you think they will. And for Freddie, that fact might just have to be enough...
Payment & Security
Payment methods
Your payment information is processed securely. We do not store credit card details nor have access to your credit card information.
---
Security