Roll over image to zoom in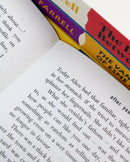 Titles In This Set:
After You'd Gone


The Distance Between Us




The Hand That First Held Mine




The Vanishing Act of Esme Lennox




After You'd Gone:

A distraught young woman boards a train at King's Cross to return to her family in Scotland. Six hours later, she catches sight of something so terrible in a mirror at Waverley Station that she gets on the next train back to London.


The Distance Between Us:

On a cold February afternoon, Stella catches sight of a man she hasn't seen for many years, but instantly recognises. Or thinks she does. At the same moment on the other side of the globe, in the middle of a crowd of Chinese New Year revellers, Jake realises that things are becoming dangerous.


The Hand That First Held Mine:

When the sophisticated Innes Kent turns up on her doorstep, Lexie Sinclair realises she cannot wait any longer for her life to begin, and leaves for London. There, at the heart of the 1950s Soho art scene, she carves out a new life. In the present day, Elina and Ted are reeling from the difficult birth of their first child.


The Vanishing Act of Esme Lennox:

Edinburgh in the 1930s. The Lennox family is having trouble with its youngest daughter. Esme is outspoken, unconventional, and repeatedly embarrasses them in polite society. Something will have to be done. Years later, a young woman named Iris Lockhart receives a letter informing her that she has a great-aunt in a psychiatric unit who is about to be released.
Payment & Security
Payment methods
Your payment information is processed securely. We do not store credit card details nor have access to your credit card information.
---
Security